Председатель международного редакционного совета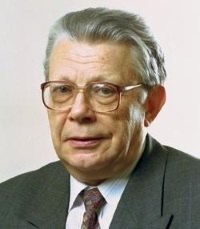 Мясоедов Борис Федорович
Родился 2 сентября 1930 года.
Окончил физико-химический факультет Московского химико-технологического института им. Д.И. Менделеева (1953). Доктор химических наук, профессор, академик РАН. Советник Президиума РАН, заведующий лабораторией радиационной безопасности Института физической химии и электрохимии РАН, главный научный сотрудник ГЕОХИ РАН. Москва, Россия.
Область научных интересов:
экстракционные и сорбционные методы выделения, концентрирования и разделения радиоактивных элементов из различных природных и технологических объектов;
высокочувствительные и избирательные методы их определения.
Основные научные достижения:
разработаны новые аналитические приборы и сенсоры;
предложены новые подходы к решению проблемы переработки облученного ядерного топлива, фракционированию высокорадиоактивных отходов;
созданы минералоподобные матрицы для долговременного экологически безопасного хранения радионуклидов;
разработаны методы контроля радиационного загрязнения окружающей среды.
Членство в организациях и награды:
Председатель Межведомственного научного совета по радиохимии при Президиуме РАН и Госкорпорации "Росатом" РФ.;
Заместитель председателя Национального комитета российских химиков;
Лауреат Государственной премии СССР, премии Правительства РФ, премии им. В. Г. Хлопина АН СССР и премии им. В.Н. Ипатьева РАН;
Награжден орденами: Трудового Красного Знамени, Дружбы народов, Знак Почета, орден «За заслуги перед Отечеством» IV степени;
Почетный член Японского общества аналитической химии.
Главный редактор журнала «Радиохимия», заместитель главного редактора журналов «Успехи химии» и «Журнал аналитической химии», член редсоветов журналов «Solvent Extraction and Ion Exchange», «Mendeleev Communications», «Radioanalytical and Nuclear Chemistry», «Analytical Sciences».
Б. Ф. Мясоедов известен как крупный организатор академической науки. Его научные достижения нашли отражение в более чем 700 научных работах, шести монографиях и 32 авторских свидетельствах и патентах. Под его научным руководством подготовлено 24 кандидата наук, при его консультациях защищено 7 докторских диссертаций наук.
Основные публикации за последнее время:
1. Tananaev, I.G., Sarychev, G.A., Myasoedov, B.F.
Nanomaterials in nuclear engineering and radioecology. (2016) Nanotechnologies in Russia, 11 (1-2), pp. 63-72. DOI: 10.1134/S1995078016010158
2. Stefanovsky, S.V., Murzin, V.Y., Remizov, M.B., Myasoedov, B.F.
XAFS Study of Iron and Nickel Speciation in Complex Sodium Aluminophosphate Based Glasses.
(2016) MRS Advances, 1 (63-64), pp. 4209-4214. DOI: 10.1557/adv.2017.210
3. Melezhyk, A., Memetov, N., Tkachev, A., Grachev, V., Myasoedov, B.
Chemistry and technology for large-scale synthesis of graphene nanoplatelets.
(2016) Asian Journal of Pharmaceutics, 10 (4), pp. 298-305.
4. Stefanovsky, S.V., Stefanovskaya, O.I., Kadyko, M.I., Remizov, M.B., Kozlov, P.V., Belanova, E.A., Myasoedov, B.F.
Phase composition and structure of sodium aluminophosphate based glass materials depending on their synthesis conditions. (2016) Doklady Physical Chemistry, 466 (2), pp. 32-36.
5. Belova, E.V., Tkhorzhnitskii, G.P., Kadyko, M.I., Skvortsov, I.V., Myasoedov, B.F.
Effect of γ-irradiation on the thermal decomposition of nitric acid saturated solutions of TBP in С13 diluent.
(2016) Radiochemistry, 58 (2), pp. 182-187. DOI: 10.1134/S1066362216020120
6. Tananaev, I.G., Myasoedov, B.F.
Commercial recovery of valuable radionuclides from spent nuclear fuel: Methods and approaches.
(2016) Radiochemistry, 58 (3), pp. 257-264. DOI: 10.1134/S1066362216030061
7. Stefanovsky, S.V., Stefanovskaya, O.I., Murzin, V.Y., Shiryaev, A.A., Myasoedov, B.F.
Oxidation state and coordination environment of uranium in sodium iron aluminophosphate glasses.
(2016) Doklady Physical Chemistry, 468 (1), pp. 76-79. DOI: 10.1134/S0012501616050043
8. Fedorov, Y.S., Kulyako, Y.M., Blazheva, I.V., Goletskii, N.D., Zilberman, B.Y., Metalidi, M.M., Petrov, Y.Y., Ryabkova, N.V., Vinokurov, S.E., Trofimov, T.I., Myasoedov, B.F.
Dissolution of WWER-1000 spent nuclear fuel in a weakly acidic solution of iron nitrate and recovery of actinides and rare earth elements with TBP solutions. (2016) Radiochemistry, 58 (3), pp. 265-270. DOI: 10.1134/S1066362216030073
9. Nazin, E.R., Zachinyaev, G.M., Rodin, A.V., Belova, E.V., Thorzhnitsky, G.P., Myasoedov, B.F.
Gamma radiation thermal stability of two-phase mixtures of nitric acid with degraded TBP in a closed vessel.
(2016) Nuclear Technology, 194 (3), pp. 369-378. DOI: 10.13182/NT15-77
10. Belova, E.V., Dzhivanova, Z.V., Tkhorzhnitskii, G.P., Stefanovsky, S.V., Myasoedov, B.F.
Kinetics of oxidation of 30% TBP solutions in С13 diluent with nitric acid: Effect of temperature and γ-irradiation.
(2016) Radiochemistry, 58 (4), pp. 426-430. DOI: 10.1134/S1066362216040135
11. Dzhivanova, Z.V., Tkhorzhnitskii, G.P., Belova, E.V., Myasoedov, B.F.
Effect of 239Pu α-radiation on its extraction from nitric acid solutions with a 30% solution of tri-n-butyl phosphate in Isopar-M. (2016) Radiochemistry, 58 (5), pp. 480-485. DOI: 10.1134/S1066362216050064
12. Belova, E.V., Nazin, E.R., Skvortsov, I.V., Sokolov, I.P., Rodin, A.V., Stefanovsky, S.V., Myasoedov, B.F.
Thermal stability and radiation resistance of trifluoromethyl phenyl sulfone in the presence of nitric acid.
(2016) Radiochemistry, 58 (5), pp. 486-490. DOI: 10.1134/S1066362216050076
13. Belov, A.S., Novikov, V.V., Zelinskii, G.E., Vologzhanina, A.V., Varzatskii, O.A., Myasoedov, B.F., Voloshin, Y.Z.
New rhenium(III) semiclathrochelates with biorelevant apical substituents: Synthesis, X-ray structure and reactivity.
(2016) Inorganic Chemistry Communications, 72, pp. 23-29. DOI: 10.1016/j.inoche.2016.07.019
14. Stefanovsky, S.V., Stefanovskaya, O.I., Kadyko, M.I., Nikonov, B.S., Myasoedov, B.F.
Influence of the heat treatment procedure and irradiation on the structure of the anionic motif and crystallization of uranium-containing phosphate glasses. (2016) Radiochemistry, 58 (6), pp. 654-661. DOI: 10.1134/S106636221606014X
15. Borisova, N.E., Korotkov, L.A., Ivanov, A.V., Lapka, J., Paulenova, A., Belova, E.V., Stefanovsky, S.V., Myasoedov, B.F.
New potentialities of the UNEX process using polyheterocyclic diamides. (2016) Radiochemistry, 58 (6), pp. 606-616. DOI: 10.1134/S1066362216060072
16. Myasoedov, B.F., Kalmykov, S.N., Kulyako, Y.M., Vinokurov, S.E.
Nuclear fuel cycle and its impact on the environment. (2016) Geochemistry International, 54 (13), pp. 1156-1167. DOI: 10.1134/S0016702916130115
17. Stefanovsky, S.V., Yudintsev, S.V., Vinokurov, S.E., Myasoedov, B.F.
Chemical-technological and mineralogical-geochemical aspects of the radioactive waste management.
(2016) Geochemistry International, 54 (13), pp. 1136-1155. DOI: 10.1134/S001670291613019X
18. Samsonov, M.D., Trofimov, T.I., Kulyako, Y.M., Malikov, D.A., Myasoedov, B.F.
Supercritical fluid extraction of rare earth elements, thorium and uranium from monazite concentrate and phosphogypsum using carbon dioxide containing tributyl phosphate and di-(2-ethylhexyl)phosphoric acid.
(2016) Russian Journal of Physical Chemistry B, 10 (7), pp. 1078-1084. DOI: 10.1134/S1990793116070186
19. Myasoedov, B.F., Lebedev, I.A.
Russia and Eastern Europe. (2017) Separation Techniques in Nuclear Waste Management (1995), pp. 275-283.
DOI: 10.1201/9780203710388
20. Stefanovsky, S.V., Stefanovsky, O.I., Remizov, M.B., Kozlov, P.V., Belanova, E.A., Makarovsky, R.A., Myasoedov, B.F.
Sodium–aluminum–iron phosphate glasses as legacy high level waste forms. (2017) Progress in Nuclear Energy, 94, pp. 229-234. DOI: 10.1016/j.pnucene.2016.01.022
21. Glazkova, I.S., Kalmykov, S.N., Presniakov, I.A., Sobolev, A.V., Stefanovsky, O.I., Stefanovsky, S.V., Vinokurov, S.E., Myasoedov, B.F.
Iron oxidation state and coordination, and hydrolytic durability of sodium-aluminum iron phosphate glasses
(2017) Progress in Nuclear Energy, 94, pp. 235-239. DOI: 10.1016/j.pnucene.2016.09.018
22. Borisova, N.E., Kharcheva, A.V., Patsaeva, S.V., Korotkov, L.A., Bakaev, S., Reshetova, M.D., Lyssenko, K.A., Belova, E.V., Myasoedov, B.F.
Hard-and-soft phosphinoxide receptors for f-element binding: structure and photophysical properties of europium(iii) complexes. (2017) Dalton Transactions, 46 (7), pp. 2238-2248. DOI: 10.1039/C6DT04681A
23. Danilov, S.S., Vinokurov, S.E., Stefanovsky, S.V., Myasoedov, B.F.
Hydrolytic durability of uranium-containing sodium aluminum (iron) phosphate glasses. (2017) Radiochemistry, 59 (3), pp. 259-263. DOI: 10.1134/S1066362217030079
24. Nazin, E.R., Zachinyaev, G.M., Belova, E.V., Tkhorzhnitskii, G.P., Myasoedov, B.F.
Exothermic processes in mixtures of TBP with nitric acid. (2017) Radiochemistry, 59 (5), pp. 512-519.
DOI: 10.1134/S1066362217050125
25. Stefanovsky, S.V., Stefanovsky, O.I., Myasoedov, B.F., Vinikurov, S.E., Danilov, S.S., Nikonov, B.S., Maslakov, K.I., Teterin, Y.A.
The phase composition, structure, and hydrolytic durability of sodium-aluminum-(iron)-phosphate glassy materials doped with lanthanum, cerium, europium, and gadolinium oxides. (2017) Journal of Non-Crystalline Solids, 471, pp. 421-428. DOI: 10.1016/j.jnoncrysol.2017.06.032
26. Skvortsov, I.V., Belova, E.V., Rodin, A.V., Borisova, N.E., Ivanov, A.V., Myasoedov, B.F.
Thermal stability of irradiated solutions of 2,2′-bipyridine-6,6′-dicarboxylic acid bis(N-ethyl-4-hexylanilide) in fluorinated sulfones. (2017) Radiochemistry, 59 (6), pp. 607-611.
DOI: 10.1134/S106636221706008X
27. Skvortsov, I.V., Kalistratova, V.V., Belova, E.V., Rodin, A.V., Sokolov, I.P., Myasoedov, B.F.
Thermal properties of 2,2′-bipyridine-6,6′-dicarboxylic acid bis(N-ethyl-4-hexylanilide), an extractant for radioactive waste components. (2017) Radiochemistry, 59 (6), pp. 612-617. DOI: 10.1134/S1066362217060091
28. Belova, E.V., Dzhivanova, Z.V., Myasoedov, B.F., Stefanovsky, S.V.
Dynamics of gas release during thermal oxidation of TBP solutions in Isopar-M in two-phase system
(2018) MRS Advances, 3 (21), pp. 1181-1190. DOI: 10.1557/adv.2018.250
29. Martynov, K.V., Zakharova, E.V., Stefanovsky, S.V., Myasoedov, B.F.
The effect of phosphate melt cooling rate on phase composition and leach resistance of final waste form
(2018) MRS Advances, 3 (20), pp. 1085-1091. DOI: 10.1557/adv.2017.616
30. Vinokurov, S.E., Kulikova, S.A., Krupskaya, V.V., Myasoedov, B.F.
Magnesium Potassium Phosphate Compound for Radioactive Waste Immobilization: Phase Composition, Structure, and Physicochemical and Hydrolytic Durability. (2018) Radiochemistry, 60 (1), pp. 70-78. DOI: 10.1134/S1066362218010125
31. Kulyako, Y.M., Malikov, D.A., Trofimov, T.I., Vinokurov, S.E., Pilyushenko, K.S., Zevakin, E.A., Myasoedov, B.F.
Separation of Am and Cm by Extraction from Weakly Acidic Nitrate Solutions with Tributyl Phosphate in Isoparaffin Diluent. (2018) Radiochemistry, 60 (1), pp. 18-22. DOI: 10.1134/S1066362218010034
32. Borisova, N.E., Ivanov, A.V., Matveev, P.I., Smirnova, A.A., Belova, E.V., Kalmykov, S.N., Myasoedov, B.F.
Screening of the Structure of Americium Extractants Based on a 2,2'-Bipyridyl Scaffold: a Simple Way to a N2,O2-Tetradentate Ligands Library for Rational Design of An/Ln Extractants. (2018) ChemistrySelect, 3 (7), pp. 1983-1989. DOI: 10.1002/slct.201702741
33. Vinokurov, S.E., Kulikova, S.A., Krupskaya, V.V., Danilov, S.S., Gromyak, I.N., Myasoedov, B.F.
Investigation of the leaching behavior of components of the magnesium potassium phosphate matrix after high salt radioactive waste immobilization. (2018) Journal of Radioanalytical and Nuclear Chemistry, 315 (3), pp. 481-486. DOI: 10.1007/s10967-018-5698-3
34. Kalistratova, V.V., Rodin, A.V., Emel'yanov, A.S., Vidanov, V.L., Milyutin, V.V., Belova, E.V., Shmidt, O.V., Myasoedov, B.F.
Kinetics of Thermal Degradation of VP-1AP Anion-Exchange Resin in the Nitrate Form
(2018) Radiochemistry, 60 (3), pp. 287-293. DOI: 10.1134/S1066362218030104
35. Borisova, N.E., Kostin, A.A., Reshetova, M.D., Lyssenko, K.A., Belova, E.V., Myasoedov, B.F.
The structurally rigid tetradentate N,N′,O,O′-ligands based on phenanthroline for binding of f-elements: The substituents vs. structures of the complexes. (2018) Inorganica Chimica Acta, 478, pp. 148-154.
DOI: 10.1016/j.ica.2018.03.042
36. Vinokurov, S.E., Kulikova, S.A., Myasoedov, B.F.
Magnesium potassium phosphate compound for immobilization of radioactive waste containing actinide and rare earth elements. (2018) Materials, 11 (6), статья № 976. DOI: 10.3390/ma11060976
37. Danilov, S.S., Stefanovsky, S.V., Stefanovskaya, O.I., Vinokurov, S.E., Myasoedov, B.F., Teterin, Y.A.
Aluminum (Iron) Phosphate Glasses Containing Rare Earth and Transuranium Elements: Phase Composition, Oxidation State of Np and Pu, and Hydrolytic Durability. (2018) Radiochemistry, 60 (4), pp. 434-439.
DOI: 10.1134/S1066362218040136
38. Smirnov, I.V., Karavan, M.D., Logunov, M.V., Tananaev, I.G., Myasoedov, B.F.
Extraction of Radionuclides from Alkaline and Carbonate Media. (2018) Radiochemistry, 60 (5), pp. 470-487.
DOI: 10.1134/S1066362218050028
39. Skvortsov, I.V., Belova, E.V., Pavlov, Y.S., Myasoedov, B.F.
Effect of Irradiation on the Dynamics of Gas Evolution in Thermal Oxidation of Diamide Extractants in F-3 Diluent. (2018) Radiochemistry, 60 (6), pp. 595-600. DOI: 10.1134/S106636221806005X
40. Vinokurov, S.E., Kulikova, S.A., Belova, K.Y., Rodionova, A.A., Myasoedov, B.F.
Phase Composition, Structure, and Hydrolytic Durability of a Uranium-Containing Magnesium Potassium Phosphate Compound. (2018) Radiochemistry, 60 (6), pp. 644-647. DOI: 10.1134/S1066362218060139
41. Skvortsov, I.V., Kalistratova, V.V., Rodin, A.V., Belova, E.V., Myasoedov, B.F., Borisova, N.E., Tsarev, D.A.
Thermal Stability of Extractants Based on Diamides of Heterocyclic Carboxylic Acids. (2018) Radiochemistry, 60 (6), pp. 601-606. DOI: 10.1134/S1066362218060061
42. Vinokurov, S.E., Kulikova, S.A., Myasoedov, B.F.
Hydrolytic and thermal stability of magnesium potassium phosphate compound for immobilization of high level waste. (2018) Journal of Radioanalytical and Nuclear Chemistry, 318 (3), pp. 2401-2405.
DOI: 10.1007/s10967-018-6181-x
43. Kulyako, Y.M., Trofimov, T.I., Pilyushenko, K.S., Malikov, D.A., Perevalov, S.A., Vinokurov, S.E., Savel'ev, B.V., Myasoedov, B.F.
Preparation of Powdered Uranium Oxides by Denitration of Nitric Acid Uranium Solutions Using UHF Radiation. (2019) Radiochemistry, 61 (1). DOI: 10.1134/S1066362219010016
44. Matveev, P.I., Borisova, N.E., Andreadi, N.G., Zakirova, G.G., Petrov, V.G., Belova, E.V., Kalmykov, S.N., Myasoedov, B.F.
A first phosphine oxide-based extractant with high Am/Cm selectivity. (2019) Dalton Transactions, 48 (8), pp. 2554-2559. DOI: 10.1039/c8dt04729d
45. Stefanovsky, S.V., Ptashkin, A.G., Knyazev, I.A., Yudintsev, S.V., Nikonov, B.S., Myasoedov, B.F.
Cold crucible melting and characterization of titanate-zirconate pyrochlore as a potential rare earth/actinide waste form. (2019) Ceramics International, 45 (3), pp. 3518-3521. DOI: 10.1016/j.ceramint.2018.11.009
46. Vinokurov, S.E., Kulikova, S.A., Myasoedov, B.F.
Solidification of high level waste using magnesium potassium phosphate compound. (2019) Nuclear Engineering and Technology, 51 (3), pp. 755-760. DOI: 10.1016/j.net.2018.12.009